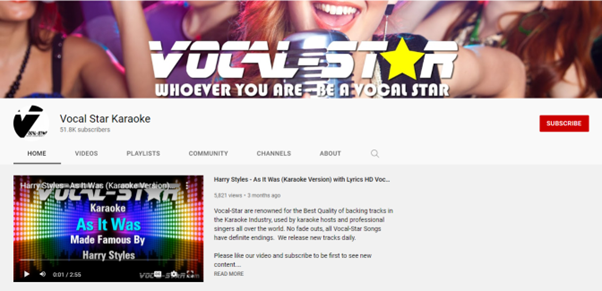 We have our own YouTube channel, where we upload a wide range of our karaoke tracks. We upload daily and currently have 5,884 channel uploads. The Vocal-Star karaoke channel is rapidly growing and is now on 51.8k subscribers, 22,728,837 video views and counting.

We are sure you will find something you will love within our channel; this is because we upload songs from pretty much every Genre of music. Our highest rated track on our channel currently is Dua Lupa - Don't Start Now, with a 100% like rating.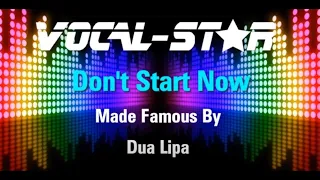 It is a great idea to ensure you are subscribed to us and turn notifications on to ensure that you do not miss out on future uploads, you can do this by following this link - https://www.youtube.com/c/VocalStarKaraoke?sub_confirmation=1
Here at Vocal-Star we are renowned for the Best Quality of backing tracks in the Karaoke Industry, used by karaoke hosts and professional singers all over the world. No fadeouts, all Vocal-Star Songs have definite endings.
The reason our tracks are on YouTube
If you have purchased one of our karaoke machines, you can connect a device such as a tablet, mobile phone or TV to it via Bluetooth. Therefore, you can use our YouTube channel to sing to your favourite karaoke tracks, completely free. We have a video below as an example of how this is done.
Vocal-Star Karaoke machines that can be used with the YouTube channel
You can use any of our items on our website (vocal-star.com) that have the Bluetooth functionality. As shown in the video above if the item you have or looking to purchase has Bluetooth you can connect to a device of your choice and head to our YouTube channel. We recommend the below list of items.
- https://vocal-star.com/product/vocal-star-vs-p180-portable-bluetooth-mp3-karaoke-machine-with-light-effect-2-wireless-microphones
- https://vocal-star.com/product/vocal-star-portable-disco-karaoke-machine-with-bluetooth-2-wireless-microphones-light-effects
- https://vocal-star.com/product/vocal-star-vs-335bt-portable-karaoke-machine-with-bluetooth-2-microphones
- https://vocal-star.com/product/vocal-star-portable-bluetooth-karaoke-machine-with-led-lights-effects-2-wireless-microphones-vs-mt
- https://vocal-star.com/product/vocal-star-vs-p120-portable-1234-300w-speaker-pa-unit-with-bluetooth-2-vhf-wireless-microphones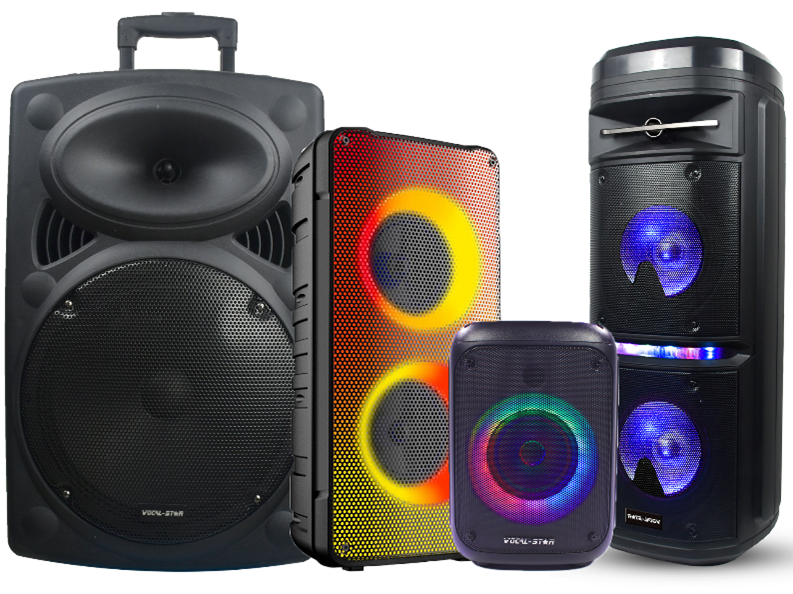 Purchase your own copies of our tracks
We offer both physical and digital formats of our tracks if you wish to purchase copies. We have GD+G physical media in the form of discs. We have a fantastic range to choose from and deliver straight to your door. These can be purchased here - https://vocal-star.com/category/karaoke-discs.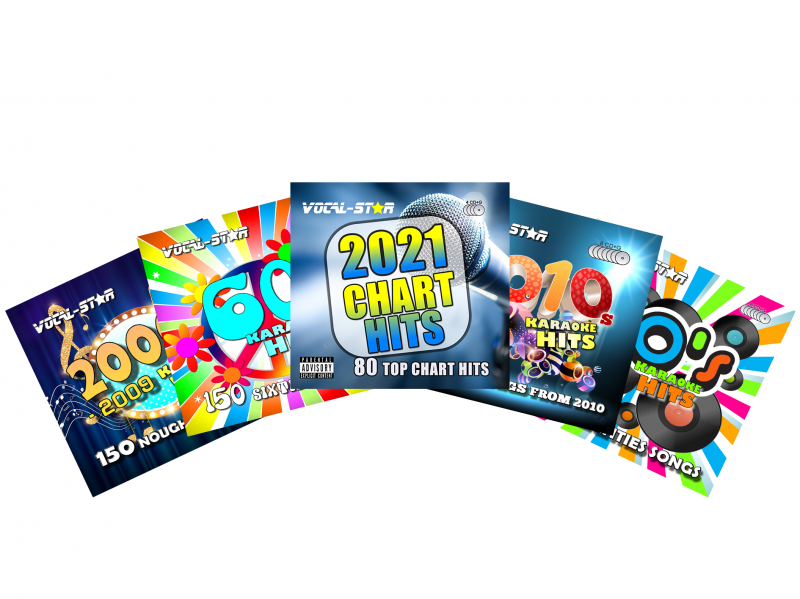 If you are preferring your karaoke media in a digital format, we have this service covered via our dedicated website - https://www.vocalstarmusic.com/.We offer our tracks on this website in MP3, MP3+G and MP4 formats, this should cover all basis for your digital karaoke needs. The main reason for opting to purchase our media instead of using YouTube is if you wish to use karaoke offline.