Wireless microphones are a brilliant tool for an epic karaoke session!

Quite simply, a wireless microphone is a device that can be enabled wirelessly rather than being connected by wires. Certain models can also be charged via USB, which is super useful in that pretty much every household and establishment will have access to these types of cables.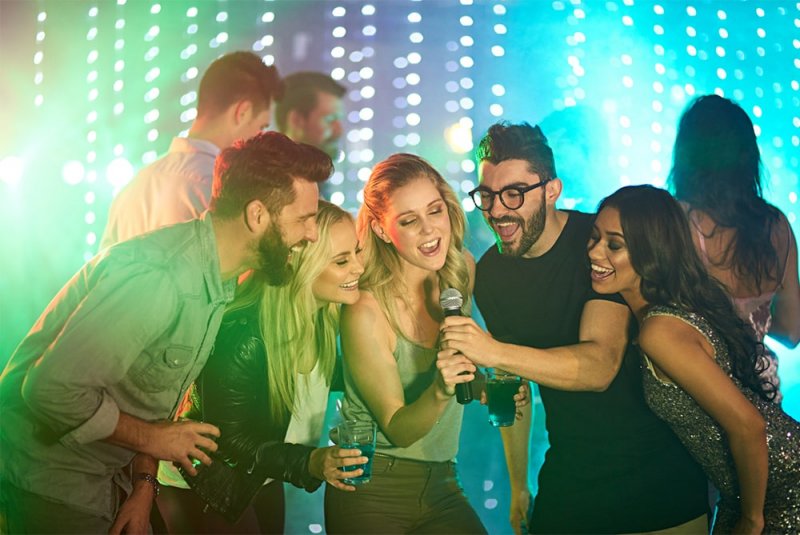 What are the benefits of a wireless microphone for karaoke?
There are many benefits to using or owning a wireless microphone, as opposed to a wire-connected mic. For example:
A more fluid performance – singers may prefer to move about during their song rather than stay in one spot. A wireless mic would be the best option to enable a more mobile performance.
Safety - If it's a hectic party or event with people moving around quickly, or dancing near the singer for example, loose wires can be a trip hazard. A wire-free microphone would allow for a safer option in a busy setting.
A quick change of singer - if there needed to be quick change between performers at a moment's notice, choosing wireless makes it much easier to pass the mic.
Hygiene – it is much simpler to give a wireless mic a quick wipe down, which is especially crucial in times where viruses are prevalent.
Maintenance - if the microphone needed a maintenance, quality, or sound check in between or midperformance, a sound technician could undertake their check in a speedy manner and bring it right back, rather than drag it around with wires in the way.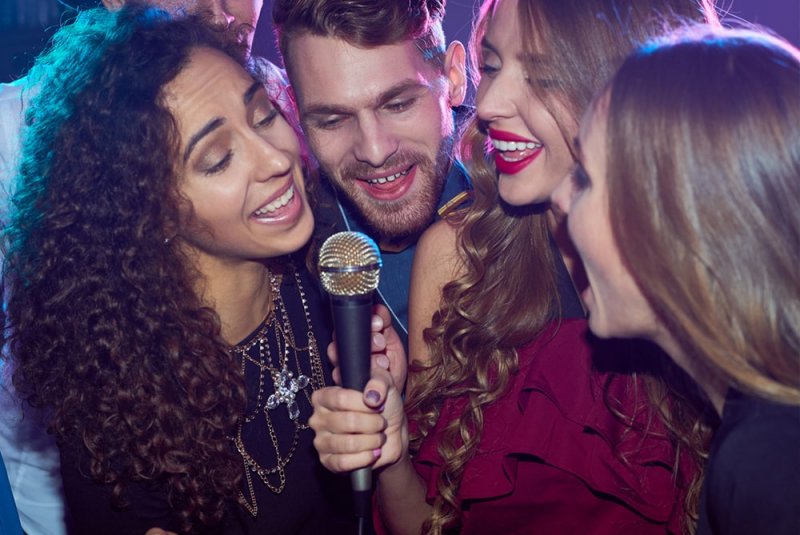 What are the benefits of a wire-connected microphone for karaoke?
Whilst wireless mics are an excellent karaoke option, some may prefer to utilise wire-connected microphones, for a variety of reasons. For example:
Ease of connection – with a wired mic, users can have a greater peace of mind knowing that it should work first time around, with minimal connectivity issues.
No need to charge – there is arguably nothing worse than an uncharged device at a crucial moment! A wired mic will eliminate the need to wait for a microphone to power up, so the fun need never stop!
Stress-free performing - a nervous performer is more likely to prefer a fuss-free approach with a plug-and-play style device to eliminate mishaps that might hinder their performance.
Hands-free singing – some singers may prefer to be hands-free when they sing and can then easily place the microphone into the stand. This could simply be to demonstrate extra passion for their song, or it could be for a more complex reason such as choosing to sign for hearing impaired people; both can only be done when their wired microphone is plugged in and set in the stand.
Wireless vs wired microphones - charging and working times
Generally, a wireless mic will take 3-4 hours to charge and will then last for up to 8 hours. Usually, a karaoke session wouldn't ever need to last longer than 8 hours, but it would be important to note that if the karaoke was to be a daily or frequent occurrence, then the device should be placed back on charge at the earliest convenience.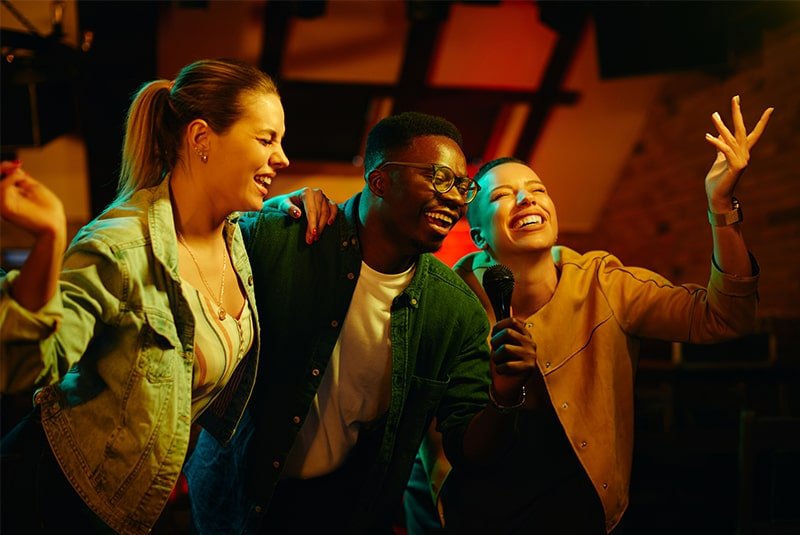 How to choose the most suitable wireless microphone for your set-up
It would be advised to consider the following when looking to buy a wireless microphone:
Operating range
This is a very important factor to bear in mind when selecting a wireless microphone. For example, if you needed your event to stretch across a further area, i.e., across multiple stages or across a field, we recommend you choose a system with an operating range that is at least twice the distance you expect to need.
This is because wireless systems with shorter ranges may have interference problems and may not transmit well through solid objects. Additionally, ultra-high frequency systems typically have a longer range than 2.4Ghz and very high frequency systems. It is important to also consider the size and layout of your operating space and potential obstacles when selecting a wireless microphone system.
Frequencies
If you have more than one wireless microphone, you will need to ensure they are on different frequencies. You will also need to be aware of restrictions when it comes to frequencies.
For example, the frequency 2.4GHZ does not require a licence, so it would be fine for a member of the public of the public to use, whereas an establishment with a music licence could use this too but might need to think about additional licenses.
Echo and volume control
A control for the volume and echo is built into wireless microphones, which makes them simpler to work with and adjust, especially if they will be used in an area that should not have loud music, i.e., a private garden where neighbours could complain about noise, or a venue without a music licence.
It is also worth looking into a microphone windsock if you plan to perform outside. This is a foam cover that is placed over the microphone head and is designed to reduce the amount of wind noise and other unwanted sounds that may be picked up by the microphone.
This can be particularly useful when performing outdoor or in windy environments. The foam material of the windsock also helps to reduce the proximity effect, which is the increase in bass frequencies when a person speaks closer to the microphone.
Price
Wireless microphones tend to be a bit more expensive than wire-connected mics. This is because they tend to be more modern in design, plus there are additional elements such as charging cables and USB ports to think about.
In summary
Both wireless and wire-connected microphones are great for a variety of different reasons. Wired microphones tend to offer extra reliability, as they don't have to deal with the potential for interference or other issues that can arise with wireless microphones.
However, wireless microphones have improved significantly in terms of audio quality and are widely used in professional settings where mobility is a priority. It is always a good idea to have a wired backup microphone on hand, just in case of any issues with the wireless setup.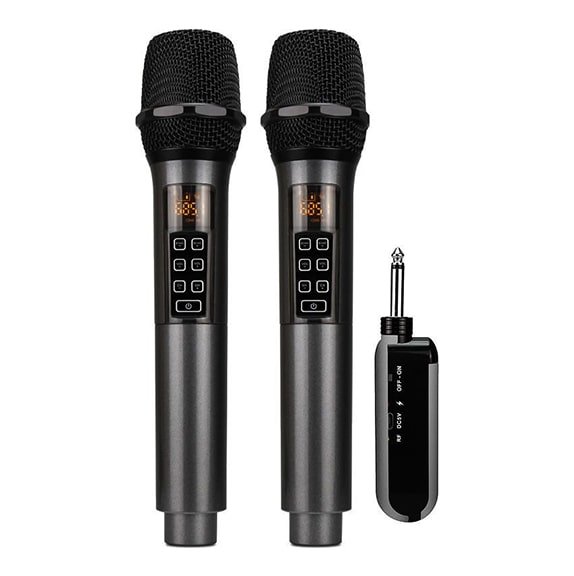 Whos is Vocal Star?
Vocal Star supplies high quality Karaoke equipment for hire or purchase, including a wide range of wireless and wired microphones. The Vocal-Star Professional UHF Wireless Microphone System is easy to use & set up and is ideal for singing, karaoke, speeches, DJing and outdoor performances. Be the star of your very own show!
We are proud to offer free and fast delivery and customer trust, plus a rating of Excellent on Trustpilot!
Contact our friendly team via 01202 670929 for assistance with any queries you may have about our selection of karaoke products.